Bedding Essentials
A pampered sleep on a private jets starts with essential elements that set the stage for a truly indulgent and restful night's sleep.
Invest in the basics.
The highest quality pillows, pads, toppers and duvet inserts fill out our custom bedding. All built from materials every bit as luxurious as those they are wrapped in. As master provisioners, Primadonna provides pillows, duvet inserts, mattress pads and toppers. Everything needed to make an elegantly perfect bed.
Pillow Inserts

Our collection of pillow inserts fit various sizes, including standard, boudoir, euro, and more, offering unparalleled comfort and support. Available in two luxurious options, Primafill and 100% down, these pillow inserts are crafted to enhance your sleeping experience with their superior quality and customizable loft.

Duvet Insert

Experience the ultimate in luxurious comfort with our duvet insert, available in two exquisite options: Primafill and 100% down. Choose the perfect weight for your preferences, whether it's a regular or light option, and enjoy the perfect balance of warmth and breathability.

Mattress Topper

Our versatile white box quilted mattress topper offers the ultimate comfort for any seat configuration in your private aircraft. Available in Primafill or down, with a choice of 3" or 5" thickness, this customizable topper ensures a plush and personalized sleep surface tailored to your preferences.

Mattress Pad

Our white Primafill mattress pad offers exceptional comfort and support for any seat configuration in your private aircraft. With its plush feel and tailored fit, it enhances the sleep experience and provides an additional layer of protection for your existing mattress.
Mattress Foundations + Duvet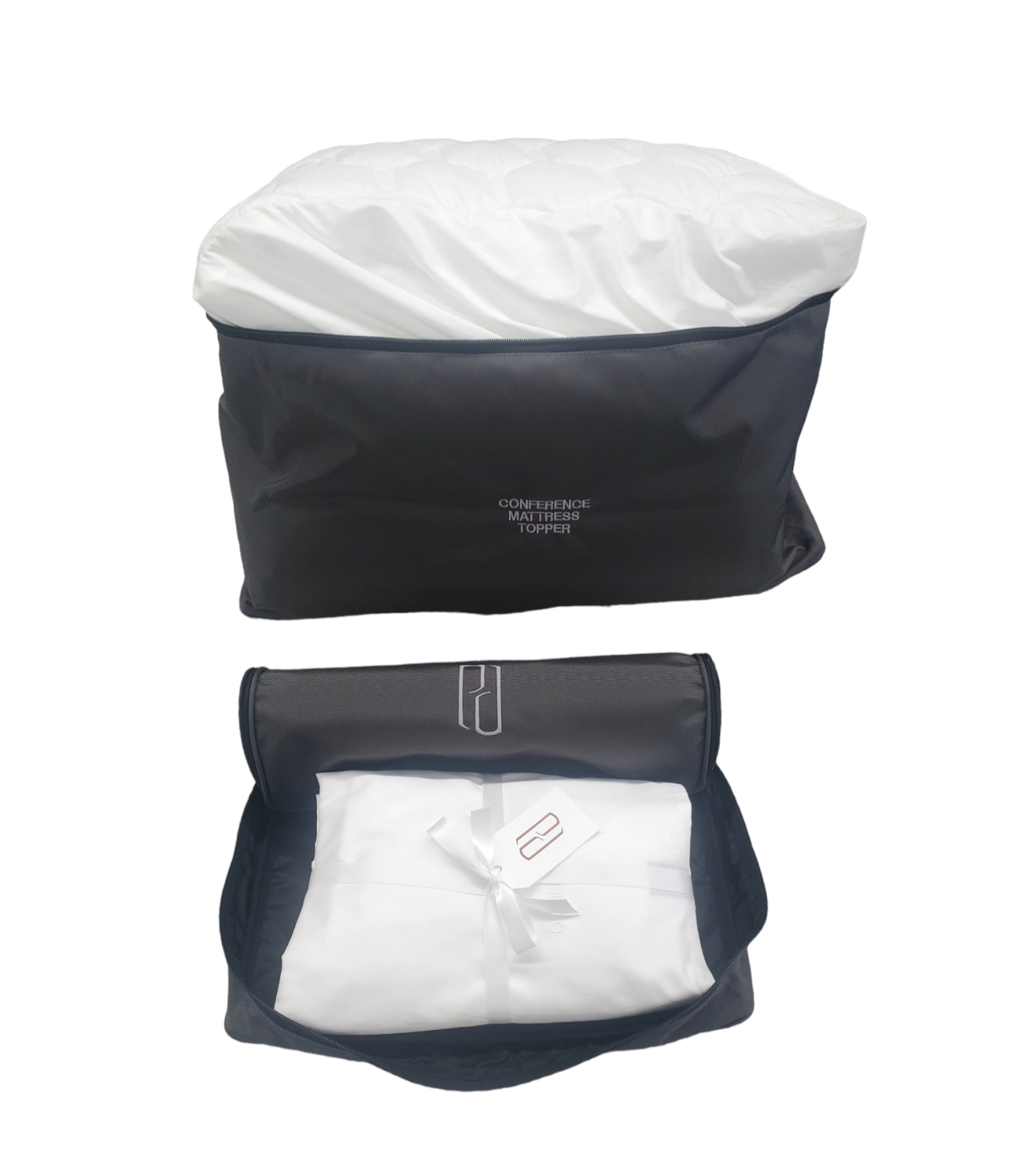 Linen Bedding Case
Our mattress pad and topper collection also includes a custom-made bedding case crafted from durable materials, designed to protect your linens. Each case is labeled with the product name and configuration for easy identification, ensuring your bedding stays protected and organized while adding convenience to your private aircraft experience.
Providing exclusive design and consultancy services to clients around the world.
Schedule a private consultation
Talk with one of our knowledgeable and dedicated team members to get started today.